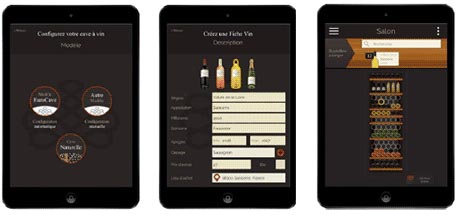 NEW! EuroCave App: a virtual cellar book for smartphone and tablet!
This year, EuroCave is launching a new app for Apple and Android. More powerful and user-friendly than ever before, the app is designed for users of wine cabinets. It is now available from Apple and Google Play (Android) stores from mid-June!
An intuitive, high-performance application
Users of wine cellars, be they natural or electric, EuroCave or other, may now create a virtual cellar via smartphone or tablet.
For owners of EuroCave cellars, simply scan the barcode for automatic integration. Owners of other cabinet brands simply have to follow the different steps in order to create a virtual wine cellar. For users of natural cabinets, bottles are located via a cellar photo.
Organise and manage your stocks
Users may manually create a detailed list of wines or directly import large quantities of bottles via an Excel file through a web interface, which equally provides direct monitoring of cellar statistics.
The application assists in planning wine-tasting, monitoring wines to be drunk within the year and provides cellar layout via email, with a full list of all the bottles present. The keyword search function offers fast and easy location of bottles. Users may also access a record of wines consumed, offering a long term memory of the vintages you have tasted.
The +:
Access to a list of wines "to be drunk this year".
Wine lottery: random selection of wines ready to be drunk via the application!
Possibility to share your favourite wines with others via social networks and all telephone or tablet applications.
Available in eight languages.
EUROCAVE – THE MASTERY OF PASSING TIME
Because Eurocave cares deeply about tasting pleasure, we develop solutions for conservation and service of wines which transform wine tasting into a moment of pure emotion; a unique encounter with the wine maker. If today's most prestigious wines are lovingly conserved in EuroCave cabinets, it is because we were the first to set the audacious and passionate goal of faithfully mastering passing time.